SATATUOTE HAS BEEN RECOGNIZED FOR ITS BUSINESS GROWTH
Due to significant growth and success, the leading Finnish financial newspaper - Kauppalehti - granted Satatuote with "Kasvaja" Growth Certificate. The financial newspaper recognizes companies who have successfully increased their turnover by 10 percentage points per year, within their industry during the past 3 years.
During the past years we have been determined to implement our vision and strategy. Our international and domestic clients recognize our competence and business methods. We are a stable, developing family-owned company based in North Europe. We lead skilled and dynamic personnel through a well-established business culture. We care what we promise, helping our customers to succeed.
Our main goal has been to provide the best client experience, which is firmly based on stability and commitment. As a result of our hard work and the trust of our clients, we've been able to reach our growth objectives. Therefore we accept the acknowledgement with pride and we would like to thank our partners and employees for standing by our side.
Multiple years of business growth reflects the company's ability to create a successful business. According to Kauppalehti, turnover is a clear measure of growth, which makes it easy to compare companies and see who meets the criteria for the certificate. Growth companies and evidently more desirable for customers, investors and various stakeholders.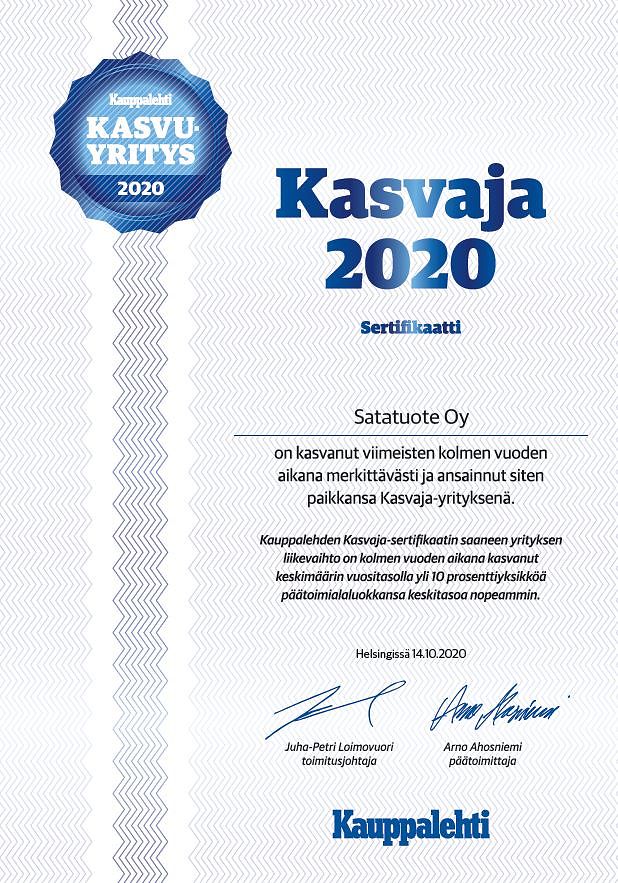 Share