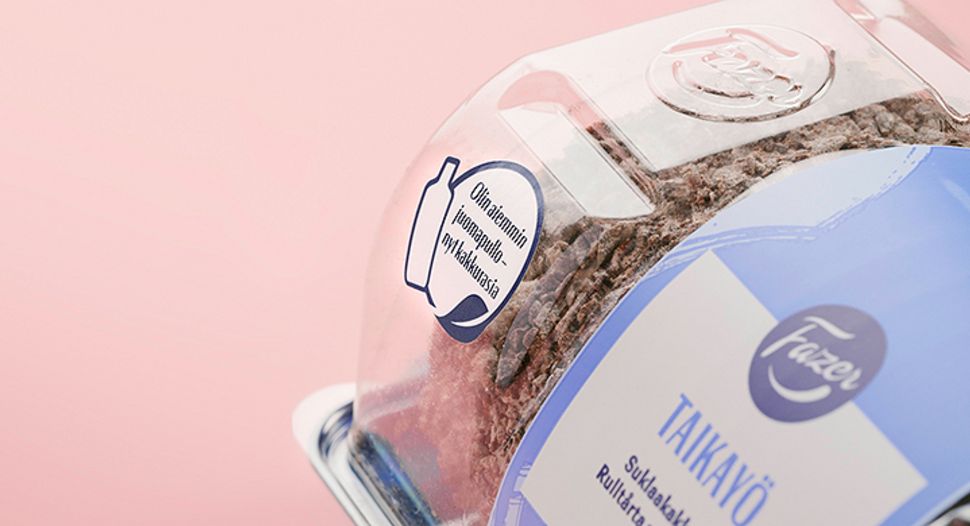 Satatuote helps Fazer Bakeries to achieve their sustainability targets
Fazer is the first in Finland to introduce food packaging made of 100 per cent recycled plastic. The renewal of the cake roll packaging means that up to 1.2 million recycled bottles get a new life every year. Thanks to the change, the company will use 24,000 kilogrammes less new plastic every year. The packaging renewal is part of Fazer's programme for responsible packaging.
Fazer ceases the use of new plastic in its cake roll packaging and is the first in Finland to implement food packaging made of 100 per cent recycled plastic.
From now on, packaging made of recycled plastic bottles will be used for Auringonpaiste, Marianne, Mansikkapaikka, Ihana hetki, Illan hehku and Taikayö products. So far, 100 per cent recycled plastic has been used in Finland only for producing bottles for the beverage industry and parts for other food packaging.
"We give a new life to 1.2 million bottles each year by reusing them in our cake packaging. It's the first time we've used plastic obtained exclusively from recycled bottles in our packaging. Recycled plastic is a little more expensive than new plastic, but we also want to move in a more ecological direction in this respect. This packaging renewal is a significant step for us – we're a forerunner and lead the way in the entire food industry sector, both in Finland and internationally," says Piia Soininen-Tengvall, Fazer Group's Packaging Development Director.
The new cake roll packaging is made of rPET plastic, i.e. recycled polyethylene terephthalate, obtained from returnable bottles after different kinds of separation, grinding, washing, and quality assurance processes. This process takes less energy than producing brand new plastic. Approximately two half-litre recycled bottles are used to produce one cake package, and no other material is required.
"The packaging has often been considered a necessary evil; a useless object that remains after the consumer has enjoyed the product itself. However, without the package, the food wouldn't keep as well, and that would generate a lot more food waste."
Even though the material has changed, the cake roll packaging's plastic box looks the same as before. An image of a bottle on the packaging label is what shows it is a new material. It states that the packaging material is 100 per cent recycled plastic which can be disposed of in the plastic recycling bin. At the beginning of the launch, the packaging will also have a sticker on it with the text: "Previously, I was a beverage bottle; now I'm a cake box." The new packaging will be in stores from 25 October.
Source: https://www.fazer.fi/tuotteet-ja-asiakaspalvelu/vastuullisuus/fazer-alkaa-valmistaa-kakkurasiansa-kierratyspulloista/
Share